Back in 2003 we would occasionally bake cookies – mostly chocolate chip.
In the photo above you can see one of several recipe cards my mom wrote for us when I expressed an interest in baking. It is a copy of the well-known Toll House Chocolate Chip Cookie recipe.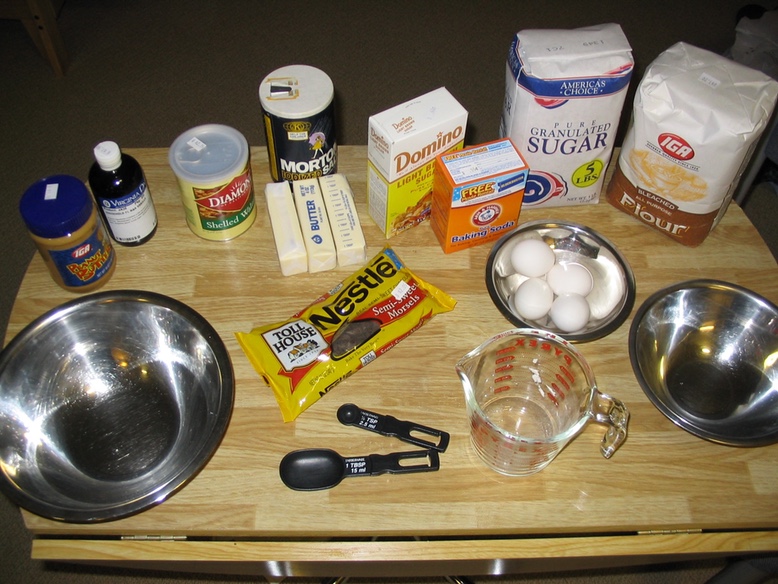 Ready to start baking
In addition to ingredients for baking chocolate chip cookies, you may notice that there is some peanut butter. One of the recipes from my mom was for peanut butter cookies.
Peanut Butter Cookies 1 cup shortening (half can be butter) 1 tsp vanilla 1 cup sugar 1 cup brown sugar 2 beaten eggs 1 cup peanut butter (smooth or crunchy) 3 cups flour 1/8 tsp salt 2 tsp baking soda Cream shortening, vanilla and sugars. Add eggs and beat. Stir in peanut butter and sift in dry ingredients. Form into tiny balls and place on cookie sheet. Press with fork to make crisscross. Bake at 375° for about 10 minutes.
I've looked around the Internet for a similar recipe and the closest I can find so far is the Taste of Home Old-Fashioned Peanut Butter Cookies Recipe.
When baking cookies we found that parchment paper really helps in order to get consistent results. It also helps to use a little flour on the fork when pressing the peanut butter cookies.
Enjoy.
---